I am not getting as much sewing time in as I hoped this week....my 11 month old has been teething non-stop and just got over a nasty stomach bug. I managed to get some quick and simple shorts sewn up for my big boy though!
Kingston LOVES his pajamas and pretty much lives in them until forced to change when we leave the house! I made him some pajama shorts for Summer...light and comfy, perfect for sleeping and playing. I like that they don't look so much like he hasn't got out of pj's all day if anyone stops by ; ) The yellow ones are made from leftover fabric from his construction party and the striped fabric is a thrifted pillowcase.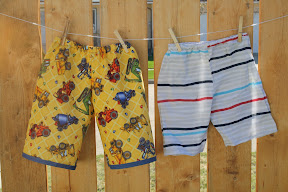 I also made him some shorts out of this cute
Be A Man Fix It Plaid
fabric by Free Spirit. He was so excited to see the tools on his shorts and promptly put on his hard hat and contruction vest!
Hoping to get some more sewing done tonight. I am working an a diaper cover pattern and tutorial...hope to have it up tomorrow!
{Amy}