Here is the tutorial for the Shorty Shorts! It is my first attempt at a tutorial so hopefully it makes sense. Let me know if you are confused and I will try to clarify!! The pattern is roughly size 12-18 months. The waist is elastic so it is pretty forgiving and could work for a smaller size.
First place your pattern pieces on the fold and cut. Next you are going to line up the side and crotch seams right sides facing each other. Pin and sew together.
Now you are going to add your bias tape around the legs. I used 1/2 inch double fold but you can use any size. I am going to try 1 inch next...I think it will give the shorts a more retro look!
Get your iron out now and you will be creating the waistband casing. Fold over twice and press...making sure the casing is high enough to fit your elastic through. Sew the waistband casing...make sure to leave an opening for the elastic. Measure your little one's waist and using a safety pin guide the elastic through the casing.
Stitch the elastic together and sew the casing closed.
That's it you're done! Now go find your little monkey and try them on...and ooh and aww over how cute their chunky thighs look in shorty shorts!
TERMS OF USE: For personal, non-commercial use only. Thanks!
I would love to see any that you make so please add pictures to my
Flickr
group : )
Linking to: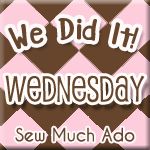 { Amy }