I recently fell head-over-heels in love with the paper bag waist skirt! I just love the casual elegance of it! It can easily be dressed up or down.
I found
this
tutorial for creating a super quick and easy elastic version on Adventures in Dressmaking. I added a few inches on the top (above the elastic) on mine to give it more of a "paper bag" look. I love how it turned out!
Oh and I'm not a giant...that's the pantry door behind me ; )
I'm linking up to Skirt Week on
A Craft A Day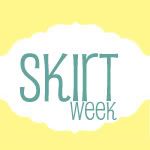 "/>"
{ Amy }